Dear Lucky Beans Members, Donors and Friends of Lucky Beans

Soup Kitchen progress: After starting the year with not much progress regarding our Soup Kitchen development, we have now had an intense and inspiring few months. I would like to update you all on our developments in Lidgetton, South Africa.
Three months ago, my sister, Catherine, who is presently living in South Africa, kindly offered to help co-ordinate the project locally. She has been our local project manager since September.
We are very grateful for her amazing support, focus and enthusiasm for bringing this project so far in such a short time. Without a local co-ordinator, it would have been nearly impossible to have achieved what we have done in the past three months.
We would also like to say a big thank you to Sandra Merrick, the local co-ordinator of the Lidgetton Community Project, and has been a key figure in melting together the Container project with the present Lidgetton Community Project. Without Sandy's openness and clarity, this would not have been as easy to realise.
Nokuthula's house is now complete and she has moved in. Thank you Nokuthula for being open for this huge change and willing to have the Soup Kitchen in your garden!
As for the Soup Kitchen, Catherine has done a remarkable job in sourcing suppliers, supplies, a reliable builder, redoing the entire container plan from the external colour to the internal fittings, and co-ordinating all the people involved to be on time for their part of the job.
She managed to get us some very kind donations, for example, all the cement surrounding the container was donated, plus the laying of it. Our thanks go to BergMix for this very generous donation.
The container plan has been changed from two 6m containers to one 12m container.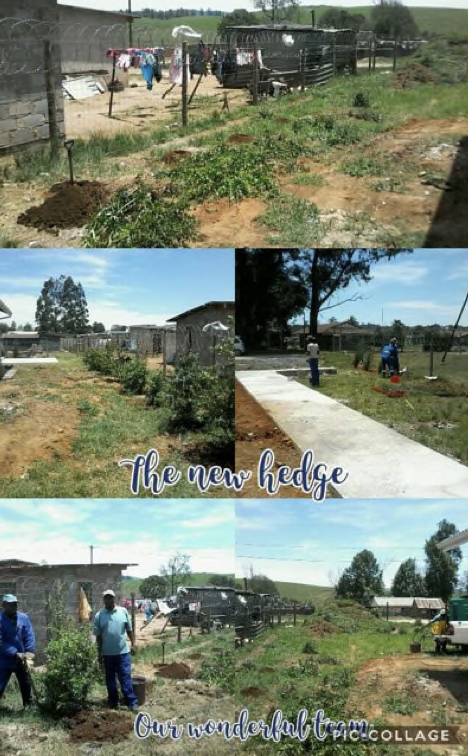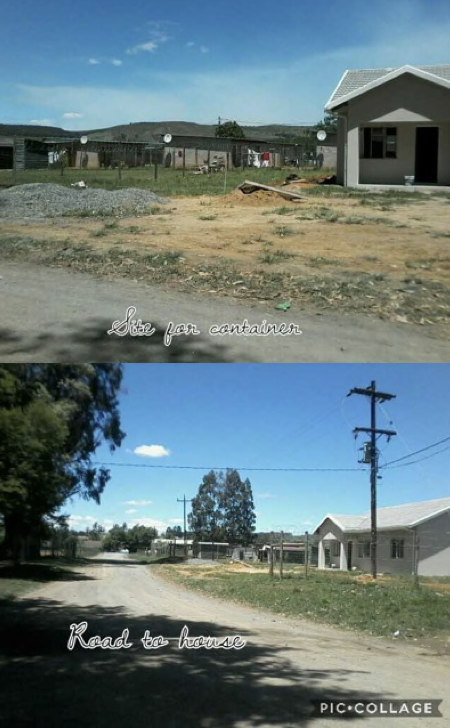 Images of the Soup Kitchen development:
The road leading to Nokuthula's house and her house on the corner.
Planting hedges with Thlandla and Cornelius, my parents wonderful gardeners - thank you so much for your help . The cement and building team arrived at 7:00am on Tuesday 21st November, poured and prepared the cement block. This block runs the entire length of the 12m container, plus around the two edges - on one side will come two water tanks (4500L each), where we will catch rain water off the roof. Thanks to Andrew from Build-It, Hilton and Dave Sinclair for their help.
Now that the container is in place, a fence and gate will be put up, the water tank will be brought in, plus a special portable toilet system that is a relatively new innovation in South Africa to manage the extreme water shortage South Africa faces right now. Thank you to Jon and his Sanitech team for your support in implementing the new toilet system for us. Thanks to Cath for finding this solution for us. A clean, hygienic and well managed system.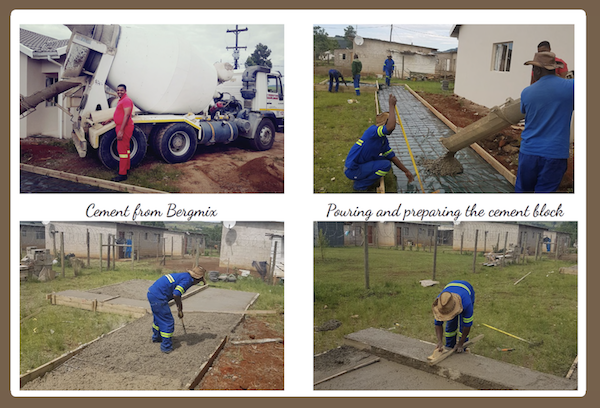 Arrival of our container: On the 29th November the finished colourful container arrived in Lidgetton, and was placed on its cement slabs, with the help of our wonderful builder, Dave Taylor. Thank you, Dave! We are very grateful for his contributions to this project so far.
Opening Ceremony: On Tuesday 12th December will be the Opening Ceremony for the Soup Kitchen, which we have decided to name: Angel Ruth's Soup Kitchen, in honour of Ruth Schmitz, a very dear friend of our friends the Domscheits, who made a generous financial contribution which enabled this new soup kitchen project to come alive. We are very grateful for this, and are happy to have Ruth's warm, friendly, enthusiastic presence in the kitchen - we will take a photo of her with us in December.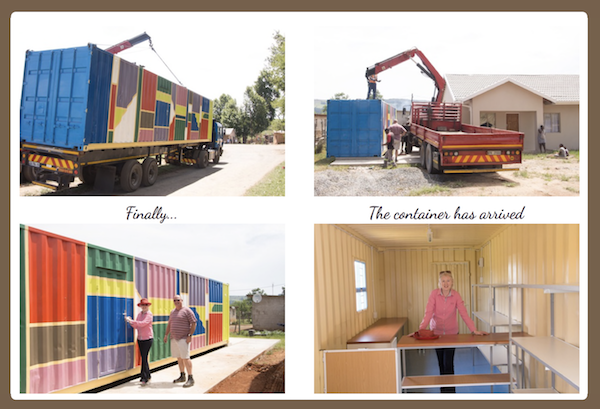 Music Voyage, "sowing seeds of music" is next on the list - I have made contact with Katherine McClelland from Music Voyage, and they need a trailer to transport their instruments, so we will purchase this soon for them.
To find out more about this local impressive initiative: https://musicvoyagesa.wordpress.com
We would like to take this opportunity to thank all our donors, students, clients, friends and family who have been so supportive of our project, recently and over the past years. A special thank you to my family in South Africa, as well as the local suppliers in South Africa, who have been very generous on different levels in their support.
We wish you all a warm wonderful Christmas time, and an inspiring new year ahead, filled with joy and lightness.
Fiona, Jürgen and the Lucky Beans team….